The rotary oven for high productivity in small spaces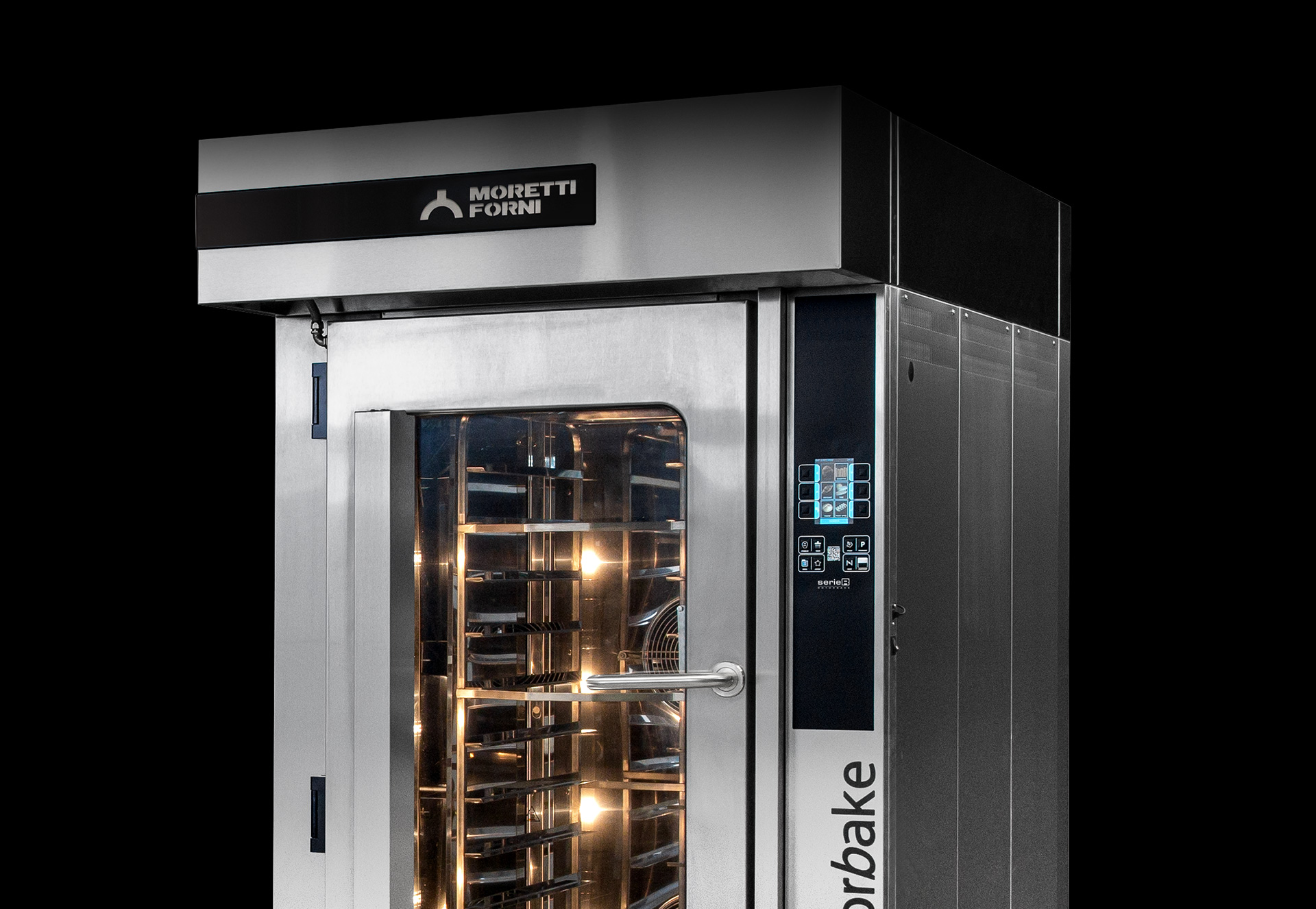 Are you interested in this product?
From the research of hot air flows comes
The wrapping heat

Performance and functionality
serieR is the rotary oven for high production of bakery and pastry with the best efficiency and low operating costs.
serieR is equipped with a rotary removable trolley to optimize working time and ease the management, 100 automatic customizable programs, and adjustable steaming. It can be easily used even by unskilled staff.
serieR has a special air convection system with two symmetrical fans reversing the rotation direction for a perfect and uniform heat distribution from the first to the last tray.
Excellent baking quality guaranteed!
Minimum size with the greatest ease of use
The rotary oven with unparalleled performances
Easy to use with consumption reduced by 30%.
serieR regulates real-time and independently the needed power according to the quantity of product placed in the baking chamber, using only the minimum energy required to perfectly bake without waste.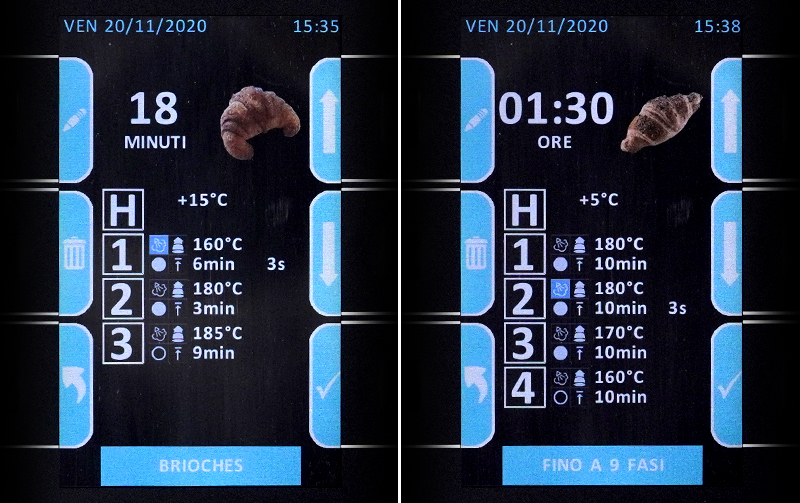 Program up to 9 different phases in the same program customizing baking cycle according to product.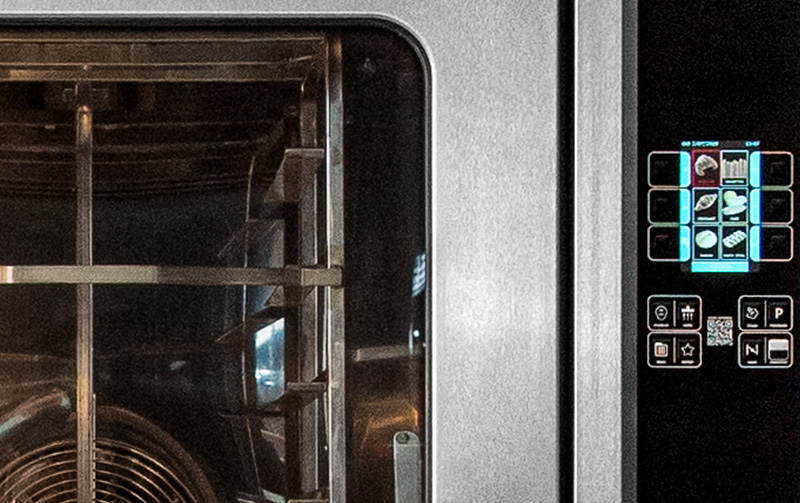 The smart function to save energy. Set the oven on standby during work pauses, it will be ready to be used with a click!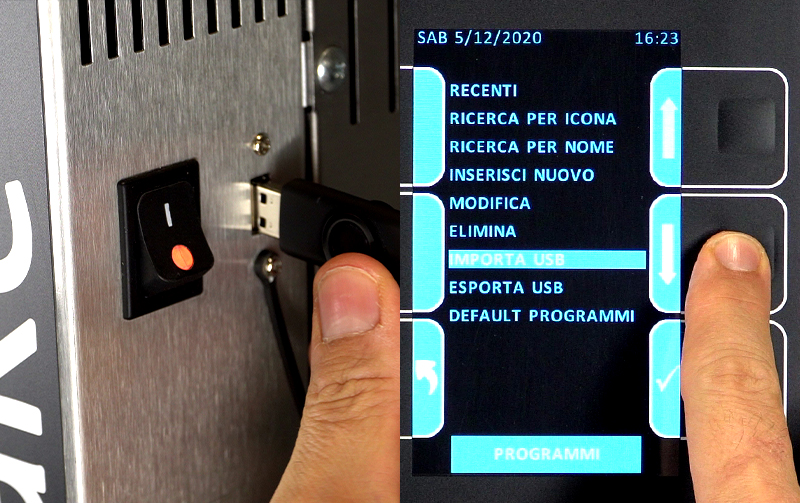 Import software updates with a simple USB device and the oven will use the latest available version.
Regulate and program steam release in the chamber from 1 to 10 seconds ensuring the correct leavening of the product during baking.
Are you interested in this product?

serieR is the rotary electric or gas oven for bakery and pastry, ideal for high productivity in small spaces. serieR comes from Moretti Forni know-how in heat dynamic flows management inside baking chambers. It is the professional oven with removable trolley, available in two models containing 14 or 18 trays (60x40cm).
serieR ensures the greatest reactivity and efficiency maintaining the temperature steady and the consumption at minimum: the electric version features a maximum power of 26kW, while the gas version features a thermal capacity of 40kW.
How does a rotary oven work?
serieR takes you in the convection baking world.
Baking uniformity in this kind of oven can be reached thanks to:
air convection system with two centrifugal fans reversing rotation direction
two special probes to set exactly the temperature, which is always steady at every phase
trolley rotation
automatic adjustment of needed power
special stainless steel deflectors calibrate heat distribution for each preparation at best.
In addition, serieR by Moretti Forni features a motorized extracting hood as standard, a colored user-friendly control panel and weekly power-on time with the possibility to set up two daily switch-on and two daily switch-off.
How many products is it possible to bake in a gas or electric rotary oven?
The productivity in a gas or electric rotary oven like serieR is: 42 trays per hour with rotary trolley containing 14 trays (60×40) and 54 trays per hour with rotary trolley containing 18 trays (60×40).
Which products is it possible to bake with an electric or gas rotary oven?
serieR is the rotary bread oven par excellence: the programmable maximum temperature is 270°C (518°F) to bake perfectly baguettes, buns or rolls, breadsticks, and also brioches, pain au chocolat, croissants, beignets, and small pastry.
According to the production request, you only need to change the removable trolley from 14 or 18 trays and control the guides' position.
The structure is made of stainless steel for the best cleaning and rapid maintenance.
The design, featuring clean lines, includes door with double tempered glass for the highest vision on trays during baking, blocking handle, and ergonomic knob-valve.