The reliable and effective traditional oven
Are you interested in this product?
Steady, functional, durable
The essence of baking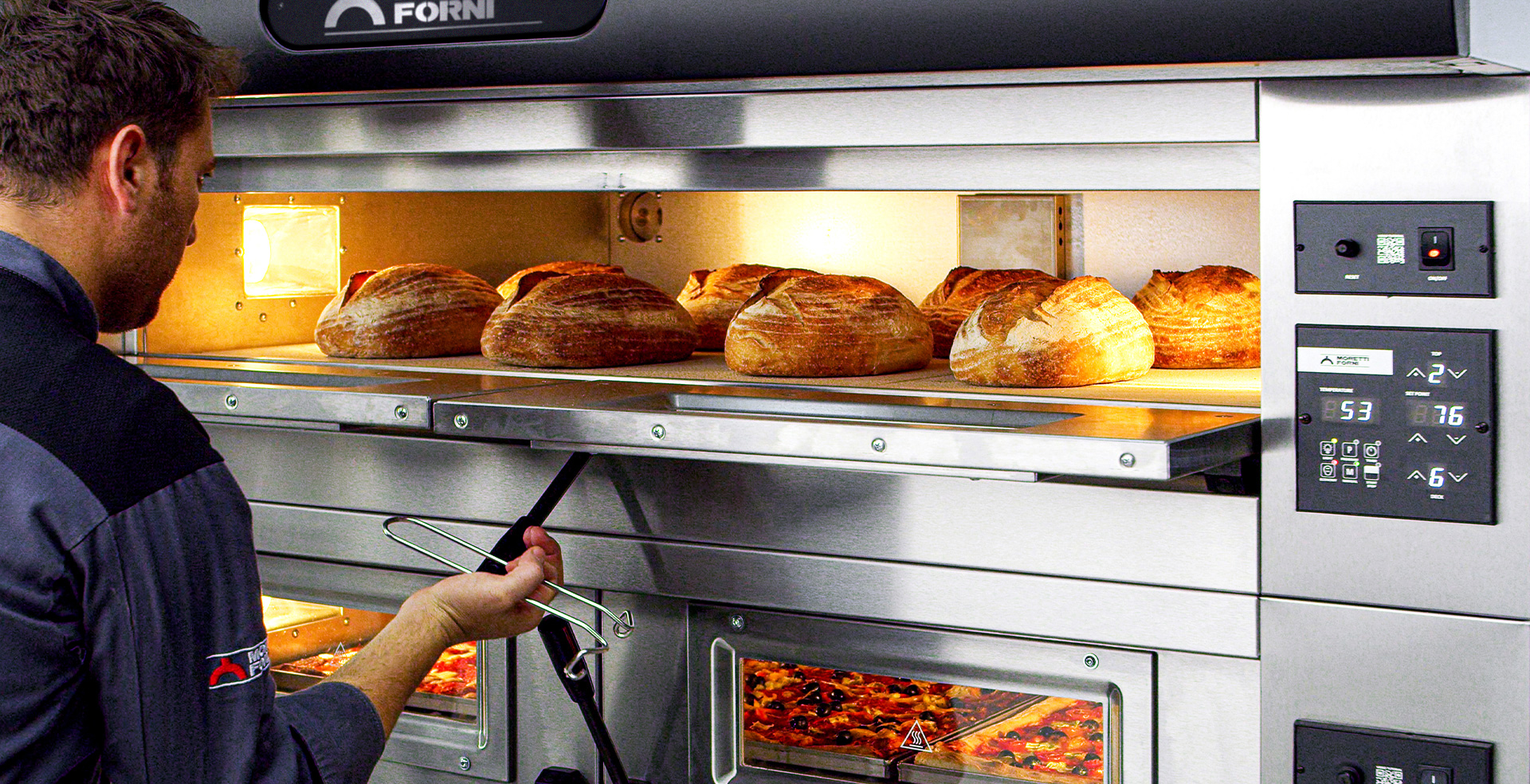 Versatility
serieP range features multifunctional, solid and powerful, both electric and gas ovens.
The ideal tool for direct and indirect baking of pizza, bread, and pastry, thanks to interchangeable decks made of refractory brick or embossed stainless steel and the possibility to install the optional steamer.

Functionality
The keyword is ease of use with its user-friendly control panel! serieP range ovens are equipped with balanced doors, ergonomic brushed stainless steel handles, and double illumination to make product vision easy during baking: more energy saving and improvement of working operations.

Reliability
serieP is the result of technical and constructive choices aiming at the greatest reliability. Specialist know-how and in-depth processes of control ensure the best durability to users.
Perfect baking guaranteed!
A solution for every business.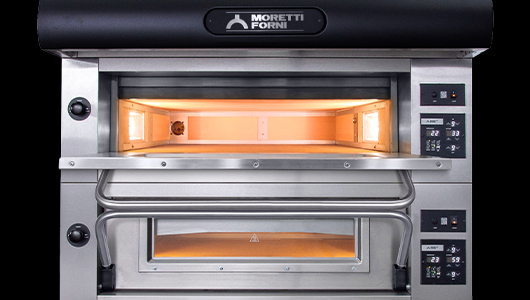 Amalfi
Amalfi is the professional modular oven, specific for direct baking with exceptional temperature stability; the baking chamber is entirely made of refractory bricks and represents the ideal tool for perfect baking of traditional pizza.
The distinctive feature of Amalfi is the exclusive technology of heating elements, which are separately inserted inside the refractory stone both for ceiling and floor and contributes to optimal heat distribution, even with frequent door opening.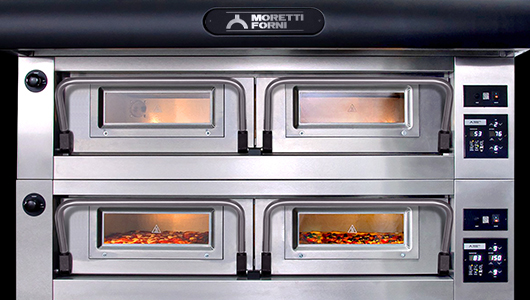 P60E, P80E, P120E
P60E, P80E, P120E models are versatile deck ovens both for dimension and for productivity: ideal for baking "pizza al taglio", pizza by the slice or "pizza alla pala", traditional pastry, small bakery, and long leavened products.
P120E features a wider baking chamber and it is available in 3 different dimensions to meet any installation requirement.
P110G, P150G
P110G and P150G, gas models of the serieP range, have exceptional baking performance for a higher productivity up to 3 stackable decks.
Gas models of serieP range are equipped with special tubular burners, placed under a double-layer refractory deck, which distributes heat from the burner thanks to an air gap ensuring the perfect baking uniformity with low consumptions.
Moretti Forni constant research creates technologies to improve baking performance and to optimize your work thanks to its user-friendly interface, equipped with all the programs you need.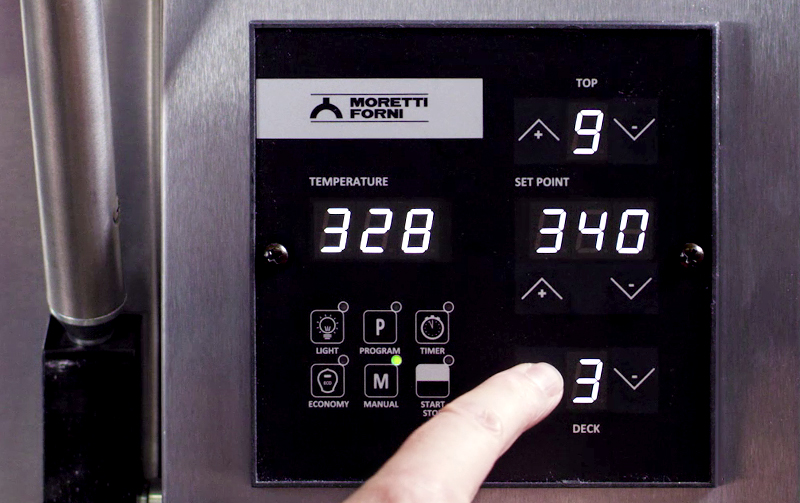 Independent control of the ceiling and floor powers to calibrate the baking of leavened products perfectly.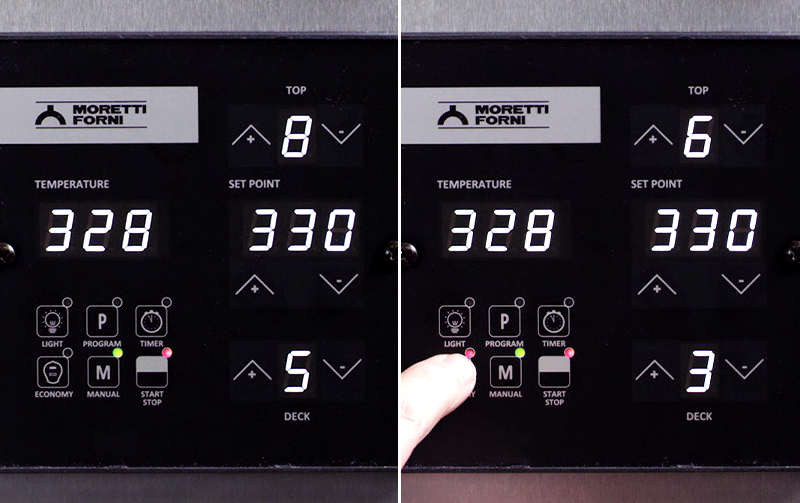 The smart function to save energy. Set the oven on standby during work pauses, it will be ready to be used with a click!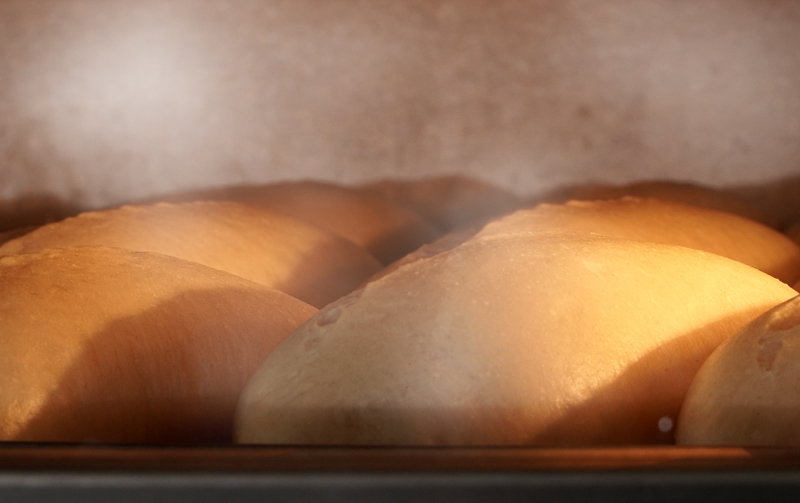 The wet steam is spread inside the baking chamber, clinging to the product and facilitating the right growth. The must-have for expert bakers!
*Optional to be purchased separately, not available for gas models P110G and P150G
This function automatically starts the oven on a desired time, you just need to set the daily timer and improve your day-to-day organization and work.
Are you interested in this product?

serieP is the professional deck oven, distinguished by its strength and thickness of insulation: equipped with high density insulation and heavy-duty doors.
Ovens included in this range are certified with ETL for the US market and feature an electronic management, which ensures the excellent baking result.
serieP is equipped with a user-friendly interface to easily program the oven.
Maximum temperature is 450°C (850°F).
Greatest reactivity and efficiency in temperature maintenance to convey perfect baking to every kind of product.
Electric or gas oven?
serieP range consists of differential solutions for pizzeria, bakery, and pastry world with various models of either electric or gas (both natural gas and LPG), deck ovens: Amalfi, P60E, P80E, P120E, P110G and P150G.
The electronic control panel allows setting independently powers of ceiling and floor, power-on timer, Eco-Standby™, and 20 customizable programs.
How many products can be baked in serieP deck ovens?
With Amalfi, you can choose among 4 dimensions of baking chamber (A, B, C, D) to meet every production need at best. For example, Amalfi D can bake simultaneously up to 12 pizzas (Ø30cm), with a production of 180 pizzas per hour or 135 family pizzas (Ø35cm) and 32 trays (60x40cm) per hour.
serieP 120E C, with a single deck, allows baking simultaneously up to 16 pizzas (30Øcm) with a production of 240 pizzas per hour or 6 trays (60x40cm) with a production of 48 trays per hour.
Design: the style of this professional oven range features a solid structure and high insulating materials with a special black insert for an unchangeable design over time.