The wood burning oven turns electric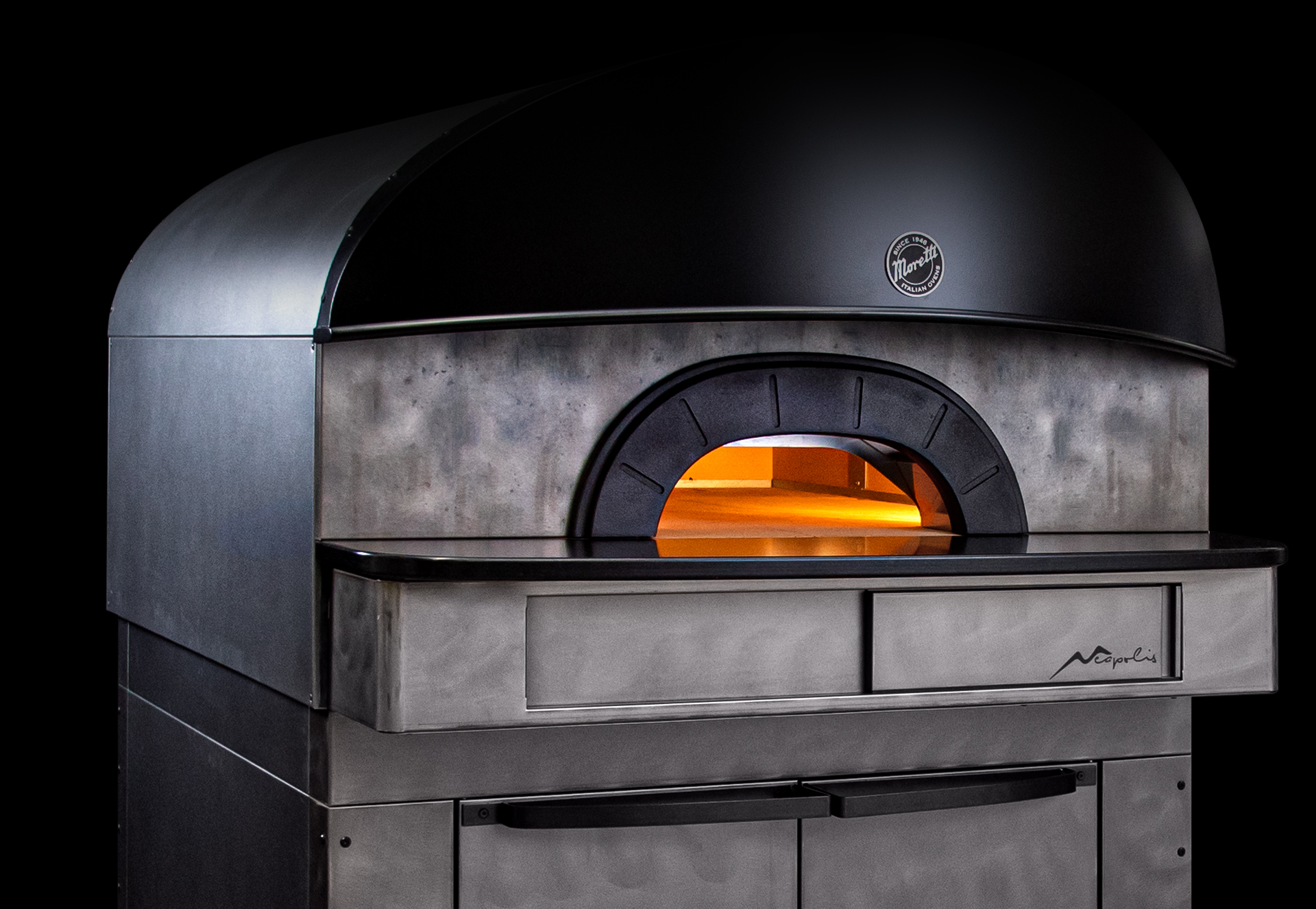 Are you interested in this product?
The most powerful electric oven in the world
to bake pizza in less than one minute.
Powerful, reliable, steady
reaches the maximum temperature of
Extraordinary baking performance for classic pizza, Neapolitan pizza, "ruota di carro" pizza, high-crust pizza or gourmet pizza.
Always steady temperature and unparalleled heat distribution.
The exceptional baking tool with iconic and functional design
Neapolis®
chromatic choice, the exclusive materials and the finishes recall a post-industrial style.
The particular vintage hood and the black granite working shelf recall tradition while identifying Neapolis® as a real icon because of its contemporary design.
The trademark of an authentic made in Italy product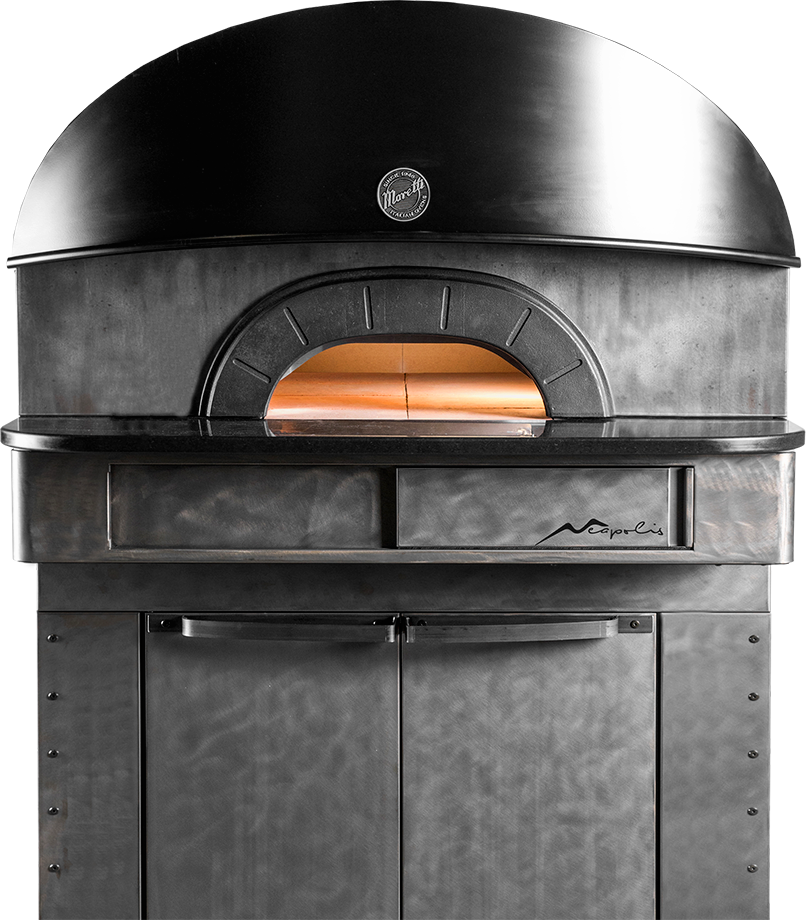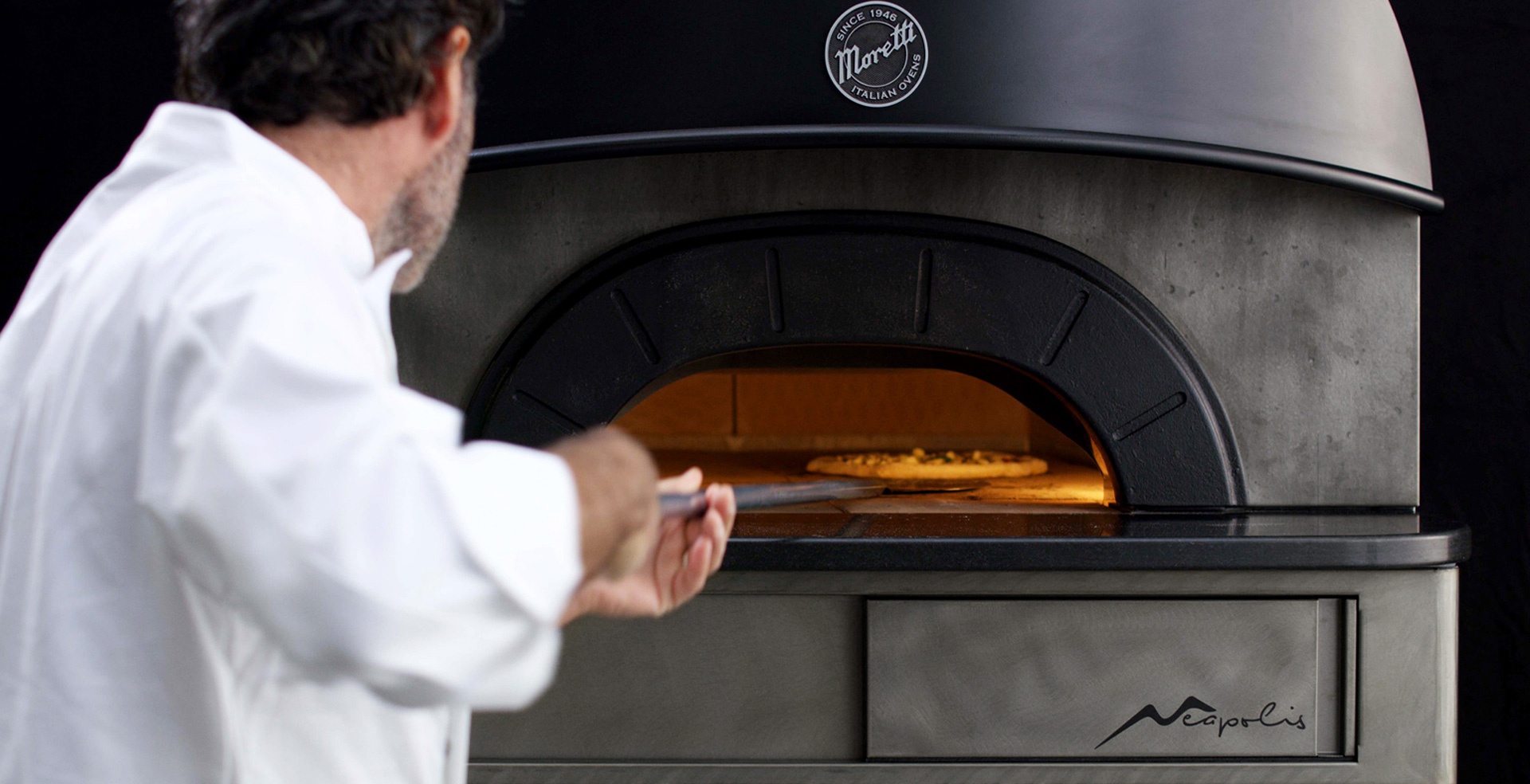 Make your work easier
User-friendliness makes Neapolis® the perfect baking tool to enhance the work of both professional pizza chefs and users, who are starting a new business.
High productivity
Bake a greater amount of pizzas faster.
Two sizes of baking chamber available to bake up to 9 pizzas simultaneously with always the same perfect result.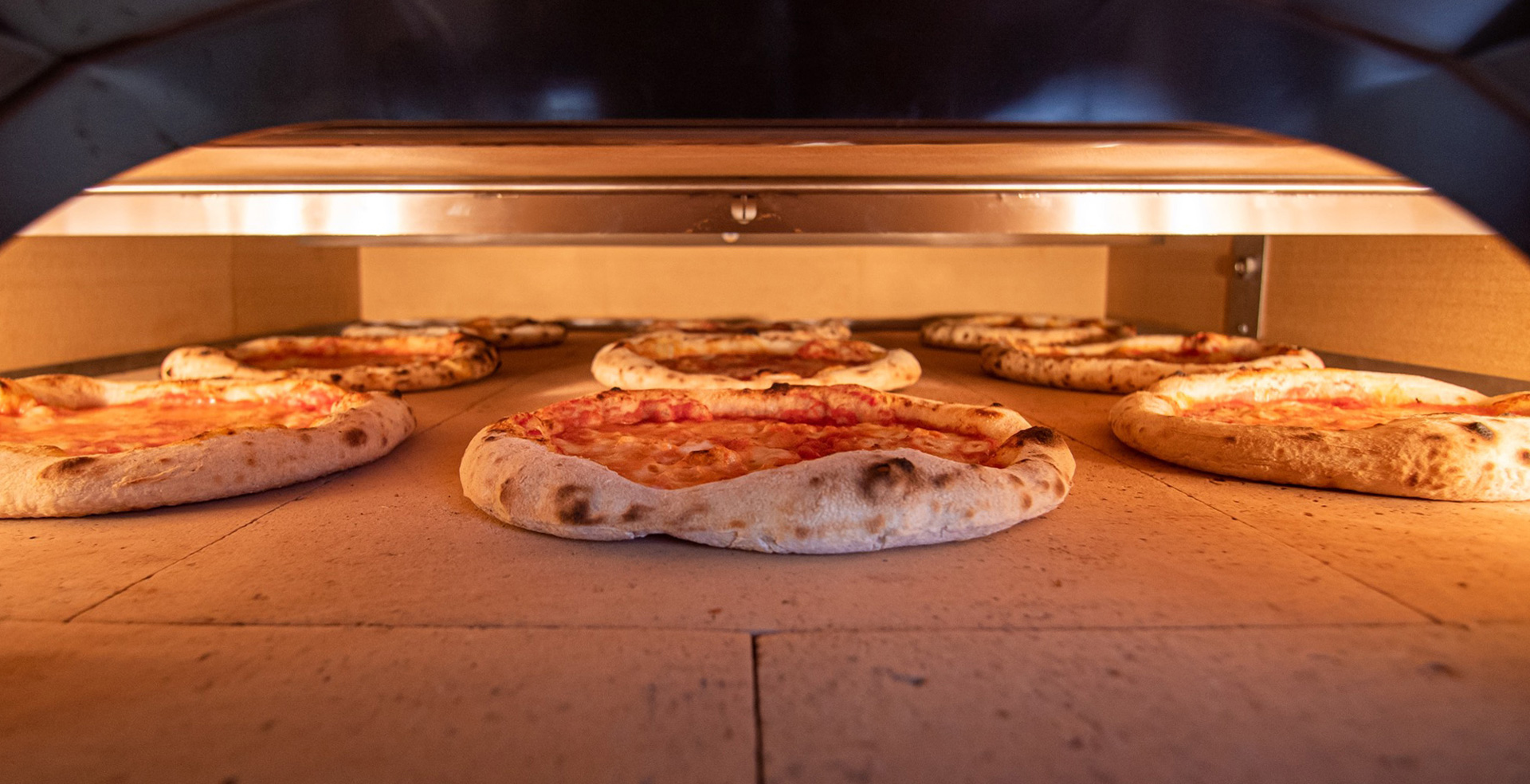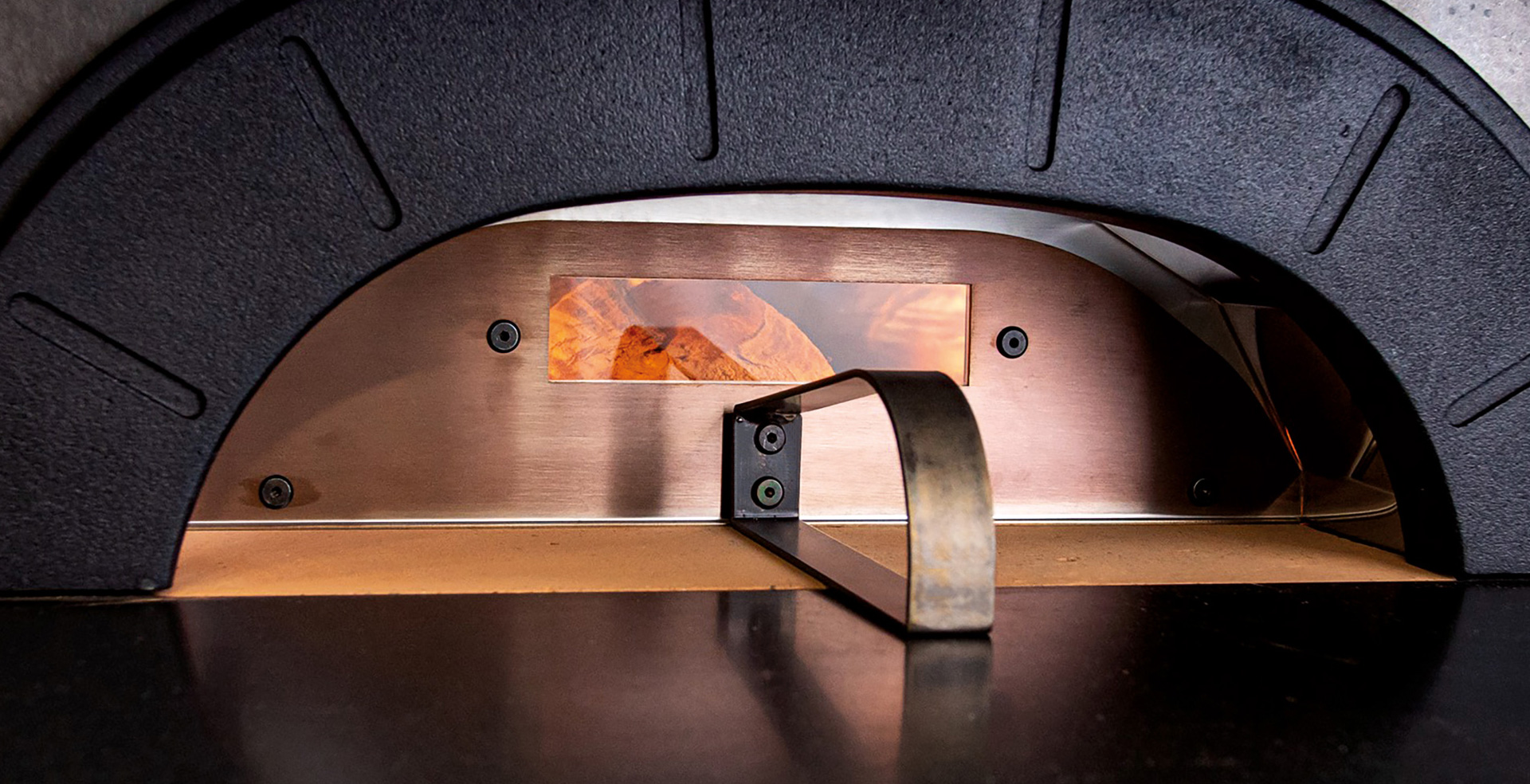 The Care for every detail
The unique features of Neapolis® ensure excellent baking performances: everything is designed to achieve effectiveness of result with the maximum energy efficiency.
The baking chamber is entirely made of refractory bricks with coiled heating elements inserted inside ceiling and floor bricks for the perfect heat calibration.
The high-density insulation ensures the maximum energy efficiency.
The thick stainless steel removable door eases the power-up of the oven, while the stainless steel door with a special high-temperatures-resistant glass, is recommended for long baking at low temperature.

*Optional to be purchased separately
The perfect baking is high technology
We study the best solution to provide you the top of baking
Separated control of ceiling and floor power to perfectly calibrate leavened products baking.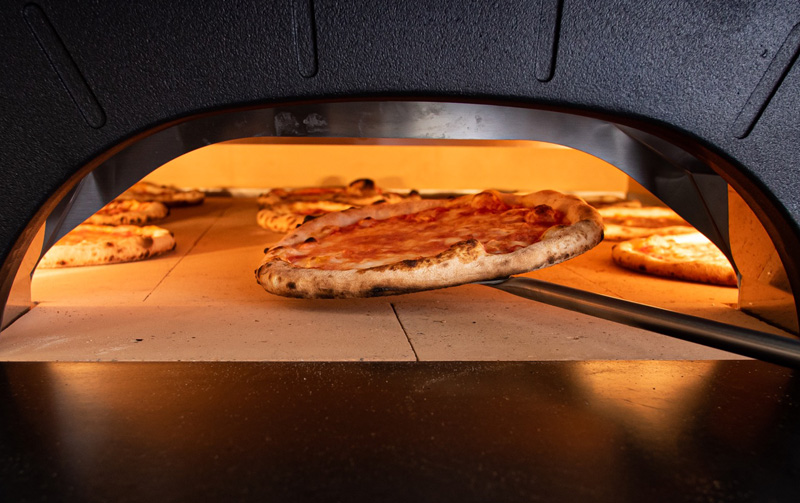 Increase the power during work's peaks and fully loaded baking with the same high quality baking.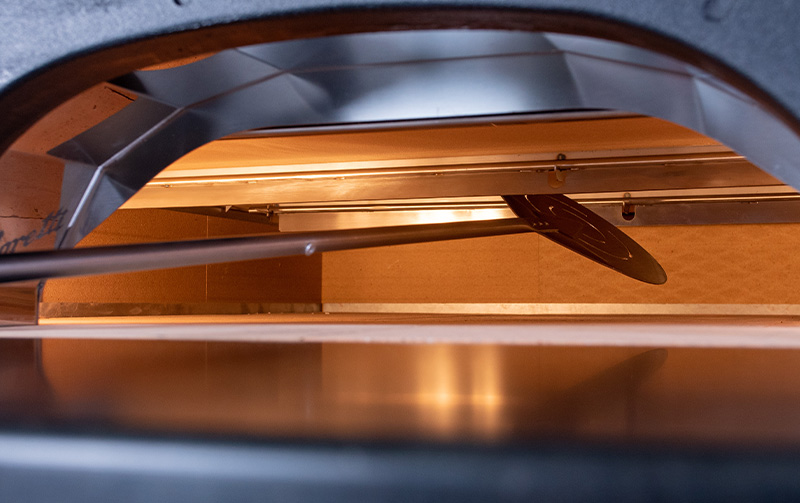 Adjustable deflectors minimize heat dispersions and energy consumption while maintaining the right level of moisture inside the baking chamber.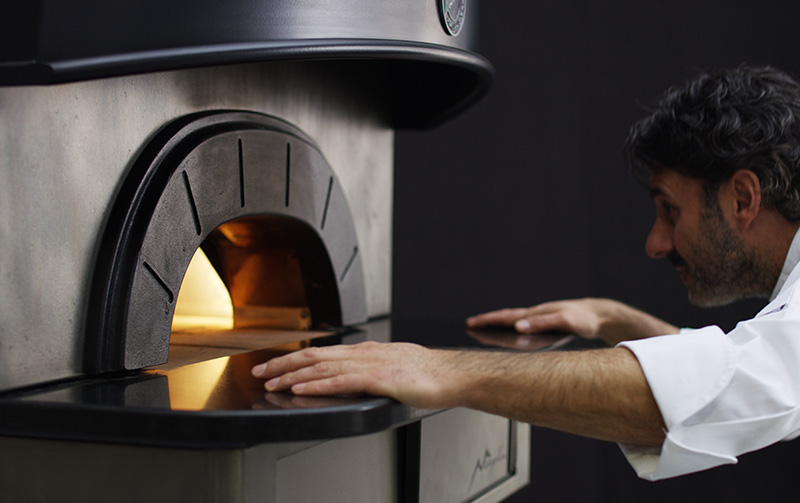 Heat is kept inside the baking chamber and the external surfaces are cold for a better livability and safety in the workplace.
The smart function to save consumptions. Set the oven on standby during work pauses, it will be ready to be used with a click!
Cleaning the oven is super easy! Program the pyrolytic self-cleaning to remove any residual from baking. Time saving and maximum safety for your customers.
Are you interested in this product?
Neapolis®, the wood burning oven turns electric.
The professional open-mouth oven to bake traditional Neapolitan pizza and gourmet pizza.
The unique features of Neapolis® ensure excellent baking performances: everything is designed to achieve effectiveness of result with the maximum energy efficiency.
Neapolis® is studied and designed to bake a pizza in less than one minute. It represents the perfect choice for restaurants or pizzerias that prefer baking with an open-mouth oven and need a reliable, easy to use and high performing oven: independent management of ceiling and floor or pre-set programs make Neapolis a versatile and immediate working tool.
Neapolis® is the ideal solution for those who are looking for a professional electric pizza oven capable of resisting high working rhythms and loads with extremely low consumption, such as pizzerias, restaurants, big kitchens, and hotels.
At full load, Neapolis® bakes up to 240 pizzas per hour (data refer to Neapolitan pizza baked in Neapolis 9) always perfect and repeatable, with constant operating temperature.
Why choose an electric oven for traditional and Neapolitan pizza?
Low consumption: Neapolis® is equipped with sophisticated software managing power and reducing consumption to the absolute minimum, during use: just 4,4 Kw/h (Neapolis® 4), 6,5 Kw/h (Neapolis® 6) and 6,8 Kw/h (Neapolis® 9).
Bake a large amount of pizzas with minimal operating costs.
Patented design: Neapolis® catches the eye at first glance. Its glamorous and functional design makes it easy to be integrated in any setting.
The unique rounded hood, the vintage Moretti Forni logo and the comfortable black granite working shelf refer to the Italian tradition.
Practical and efficient: Neapolis® has a useful power on timer and a self-cleaning program that allow you to save time for other preparations and increase work efficiency while improving user's wellness.
Available in three sizes, Neapolis® 4, Neapolis® 6 and Neapolis® 9, according to production capacity requirements.