The high performance and fast convection oven with calibrated heat
Are you interested in this product?
High technology for an efficient and delicate heat distribution
Incomparable baking uniformity and productivity

The baking for every need
A complete baking station in 1mq
In serieF, technology and efficiency combine with functionality, making production processes easier.
Designed to bake bread, pastry, and gastronomy, serieF features 100 customizable programs.
Easy to use, compact, with consumption reduced by 30%.
It is possible to stack up two serieF to diversify baking or to increase productivity.
serieF + iDeck, on the other hand, is the combination of two different heat concepts creating two different types of baking: convection and conventional for a complete station in just 1mq.
The greatest versatility to ensure always more functionality.
Save time, energy, and costs.
The high-performance convection oven
Elegant shape, advanced technology.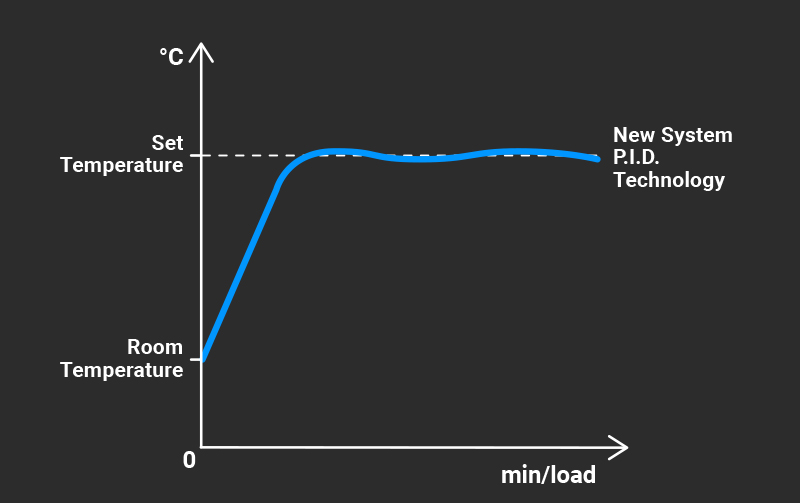 serieF regulates real-time and independently the needed power according to the quantity of product placed in the baking chamber, using only the minimum energy required to perfectly bake without waste.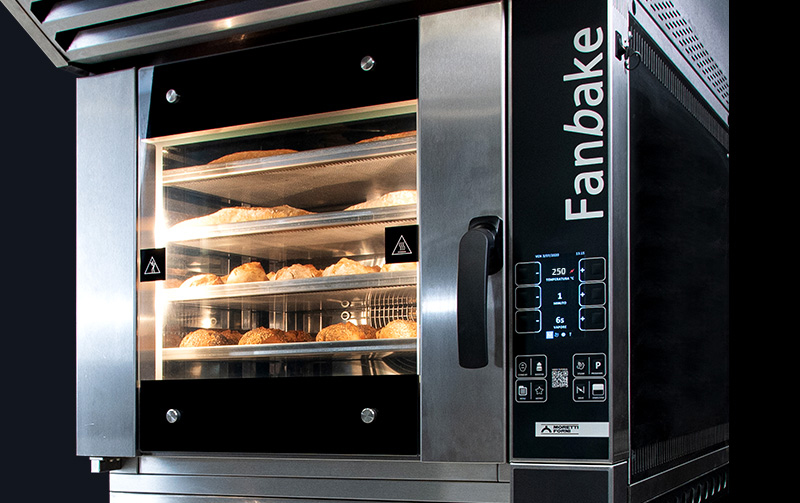 Increase power during work peaks and fully loaded baking with the same high quality baking.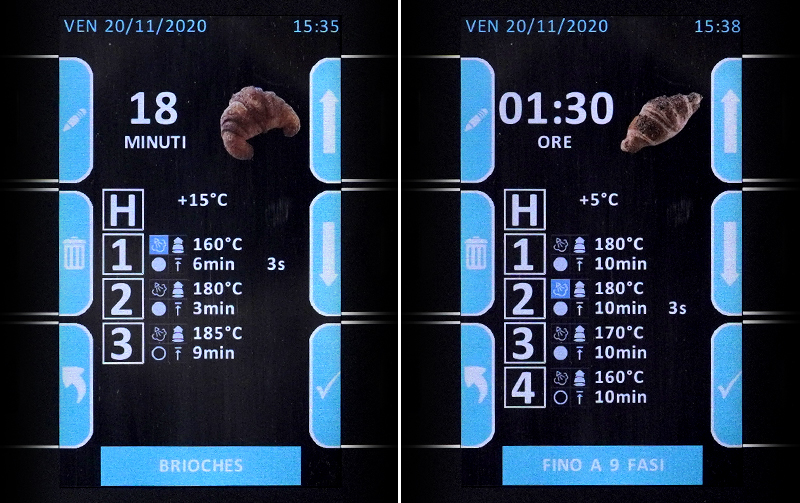 Program up to 9 different phases in the same program customizing baking cycle according to product.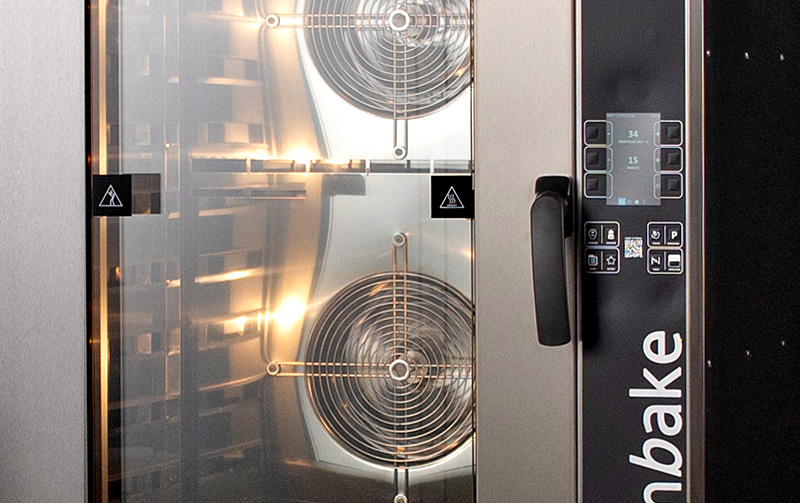 The smart function to save energy. Set the oven on standby during work pauses, it will be ready to be used with a click!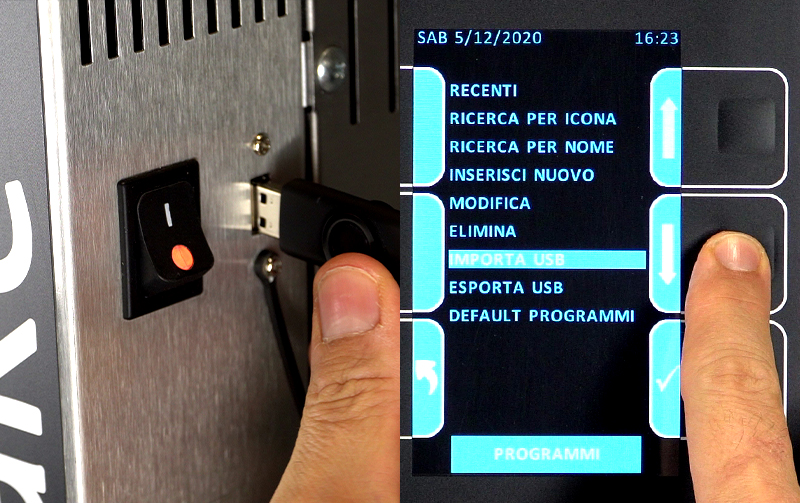 Import software updates with a simple USB device and the oven will use the latest available version.
Regulate and program the steam release in the chamber from 1 to 10 seconds ensuring the correct leavening of the product during baking.
Are you interested in this product?

serieF is the high-technology convection oven, specific for pastry, bakery, and gastronomy, where heat distribution is studied to always ensure perfect baking uniformity.
Fanbake serieF management is practical: user-friendly interface and customizable programs for every kind of product grant always-excellent results thanks to Moretti Forni's know-how in heat dynamic flows management.
serieF is an electric convection including adjustable and programmable vaporization. The special leavening prover is optional and available with glass door and humidifier to maintain the temperature steady during all leavening process.
The best chefs have chosen serieF, considering it essential among equipment for restaurants, bars, delicatessen, bakeries, and hotels.
What does "convection oven" mean?
In serieF, the electric convection oven by Moretti Forni, the study of heat flows resulting from the sophisticated state-of-the-art software is the basis of an alternated air convection system, which ensures the perfect baking uniformity of products.
In addition, among the most important features of serieF, the fan placement on the oven's rear wall perfectly distributes the heat over all the surface of every tray, especially indicated for pastry products ensuring a homogeneous and uniform Maillard caramelization.
Conventional or convection oven, which baking method is the best?
It is possible to combine serieF with conventional ovens creating a single composition for different kind of food: bread, pastry, but also pizza and gastronomy products.
You'll never be in doubt about which oven to use between conventional and convection by installing this combo in your laboratory or in your kitchen restaurant, but you'll have both of them simultaneously in a single space and you'll be able to test different kind of baking: cakes, croissants, brioches, and also buns, rolls, baguettes, "focacce", pizzas, roasts, vegetables, and pies.
How to use a convection oven for pastry?
serieF is the convection oven for pastry, created to reduce baking time and to increase productivity. Baking on several trays allows reducing baking time by 25%, just 15 minutes to bake off a perfect shortcrust pastry.
The combination serieF and iDeck allows baking different products simultaneously with excellent optimization of preparation time.
serieF is the professional oven for pastry, ideal to bake tarts, cakes, single-serves, beignets, pies, and cookies.
Production capacity:
With an electrical convection oven like serieF, productivity is 15 trays per hour for model F50 (containing 5 trays 60×40), while F100 contains 10 trays (60×40) and bakes 30 trays per hour.
Style and functionality
Moretti Forni has always paid particular attention to functional design. serieF range is visually essential: F50E e F100E are compact, ergonomic, and extremely easy to clean ovens, because they are entirely removable for careful cleaning and easy to reassemble in a short time.
The external surfaces are made of brushed stainless steel to avoid clouding and the increased extracting hood becomes a special design element.